Hello my name is Giada!
I am an experienced Personal Trainer and passionate Yoga and Pilates Instructor.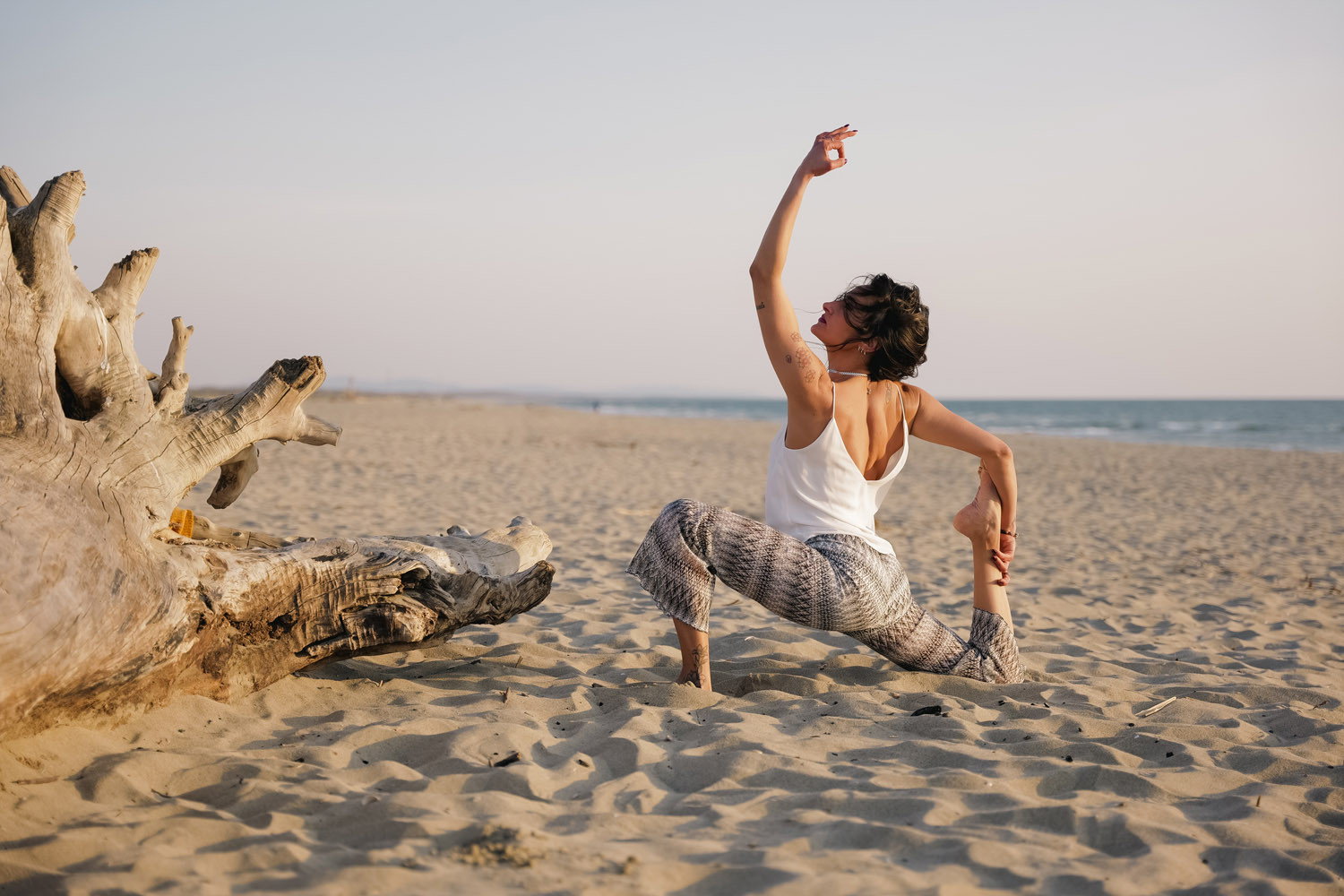 My background in movement spans 25 years,
first as a dancer and then as a gymnast on horseback, equestrian vaulting.
As my fascination for bodies and all kind of sports and movement have always been part of me, after my Bachelor's degree in Oriental Languages, driven by the need to explore, I started to travel around the world where I discovered my true passion in helping others to become a healthier and happier version of themselves.

My journey into yoga began in Dubai, when one day for fun I randomly stepped into a Yoga class run by a fiery and energetic Indian teacher.
After that day, I followed her classes for the rest of my stay in the UAE.
Well, that was the exact moment I realised I had just a taste of a beautiful and fascinating practice I would have pursued for the rest of my life.
I earned my Personal Training Certification in Italy in 2016, and right after that I moved to India for a few months, motivated to discover the wonderful culture of this fascinating country and to learn the ins and outs of my new passion, Yoga.
I ended up in Rishikesh, renowned as the Yoga Capital worldwide. With my 250-hour Teacher Training Course and a lot of practice I started to teach Hatha, Hashtanga, Vinyasa and Yin Yoga for groups and private clients.
When I moved to England in 2017, I worked as a Personal Trainer and functional group trainer in important gyms around London while taking my firsts steps in 1:1 Yoga teaching.
In 2018 I moved to Sydney where I completed my Pilates Instructor certification with one of the best accredited Pilates Teacher Training programmes in Australia, the Elixr School of Pilates.
I lived in Sydney for five years, working as a Personal Trainer, Yoga Teacher and Pilates instructor, for gyms, studios and private clients – learning and valuing each hour in a group class or with a private client to become the teacher I am today.
My solo trip to Bali was another stepping stone in my Yoga journey as I deepened my practice both as a student and as a teacher.
When I moved back to Italy I felt like it was finally crystal clear to me what my mission was and still is: sharing with people the profound knowledge I had experienced personally, on my travels, in my body and in my heart. This is for me the real meaning of practicing and teaching Yoga.
As that day back in the Dubai class foreshadowed, I kept practicing Yoga everyday,
and I am now a full time Personal Trainer and Yoga teacher proudly and completely in love with her job.
My personal style of teaching loves to combine the knowledge of Yoga and Pilates with functional movement to balance strength and flexibility, through the execution of conscious and creative sequences.

Yoga is not a work-out, it is a work-in. And this is the point of spiritual practice; to make us teachable; to open up our hearts and focus our awareness so that we can know what we already know and be who we already are.
Every time I practice or teach a class I feel so lucky and at peace.
I feel deeply satisfied and I know I am exactly where I am supposed to be even if I never planned any of it. 
When I have been asked what Yoga is for me, a spontaneous answer fill my whole heart:
Yoga for me is passion,
a way of moving and a way of living.
When I practice Yoga I feel a profound sense of love for myself and for others,
for life and for Mother Earth.
Yoga to me means being present
and choosing life,
it means unity, grace and kindness, means honouring the body and the soul.
Through movements I feel I am giving the body the opportunity to express itself and through breathing I feel I am teaching how to be present and how to appreciate every moment of this beautiful life.


I'm so grateful I was so determined to cultivate this passion, that I  found the courage to challenge myself with something new, and finally I am so grateful this became my job which fills my everyday life with joy, love and consciousness.
" We must act on our passions before we can fully experience them."